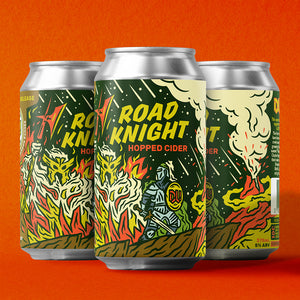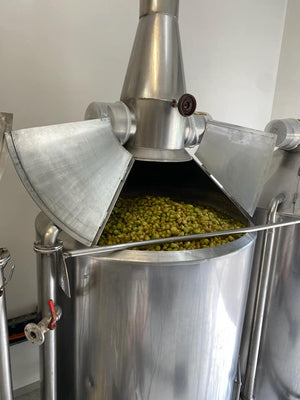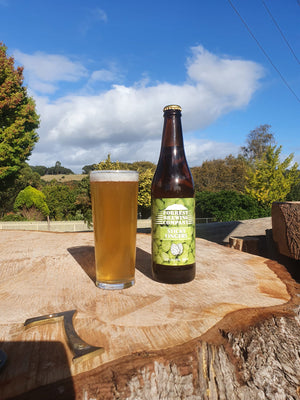 2023 Limited Release - Roadknight
2023 Darraweit Valley Cider, Roadknight Hopped Cider (Darraweit Guim, VIC)

This is our 2023 Limited Release.
This Special collab, a Wet-Hopped Cider, brings together Forrest Brewing's Heritage Hops & DV Ciders Heritage Cider Apples.

The Forrest hops are remnant plants that have been growing in isolation in Roadknight creek near the brewery since commercial hop growing finished in Forrest 70 years ago. Aptly named "Roadknight" Hops, they have lineage to Cluster hops but in 70 years have mutated into their own variety and the champions of Forrest Brewing's annual Wet Hop Lager batch, Sticky Fingers. 
Like it's Sticky Fingers Lager companion this Cider gives notes of fresh cut grass, grapefruit and candied lemon
TASTING NOTES
Medium Sweet | Lightly Carbonated | Aromatics fresh cut grass, grapefruit, candied lemon.
375ml | 5.0% ABV | 1.5 Std Drinks

*Price inclusive of GST
A nice dry little cider. Clear and refreshing.
Simon D.
This is the best cider ever.
James P.
Local Cider. Different but refreshing, reminds me of Moscato.
Jess K.
The apple flavour really comes through with the hints of hops. A bit sweeter than the oaked, but just lovely ice cold.
Richard O.
Crisp apple up front, dry finish with a bit of tannin volume on the middle to back palate.
Travis C.
Sweet, crisp and delicious.
Nicky B.