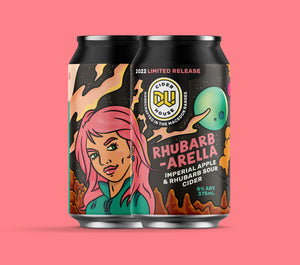 2022 Limited Release - Rhubarbarella (SOLD OUT)
2022 Darraweit Valley Cider, Imperial Rhubarb & Apple Sour Cider (Darraweit Guim, VIC)

(SOLD OUT) - subscribe to our mailing list to ensure you hear it's next return
This is our 2022 Limited Release. Back by popular demand.
Imperial Rhubarb & Apple Sour Cider.
Fruity apple. Rhubarb Sour. Creamy vanilla musk reminiscent of Turkish delight.
TASTING NOTES
Medium Sweet | Lightly Carbonated | Aromatics Vanilla musk, Apple & Rhubarb Pie
~
375ml | 8.0% ABV | 2.4 Std Drinks
*Price inclusive of GST
A nice dry little cider. Clear and refreshing.
Simon D.
This is the best cider ever.
James P.
Local Cider. Different but refreshing, reminds me of Moscato.
Jess K.
The apple flavour really comes through with the hints of hops. A bit sweeter than the oaked, but just lovely ice cold.
Richard O.
Crisp apple up front, dry finish with a bit of tannin volume on the middle to back palate.
Travis C.
Sweet, crisp and delicious.
Nicky B.