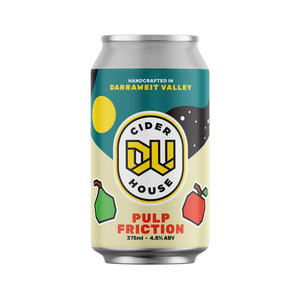 Pulp Friction - Apple & Pear
When two worlds collide….there's bound to be some friction!

We got sick of comparing apples with pears. So we blended them instead. Some say it's an unholy matrimony but after one sip we think you'll appreciate what we've done here. After carefully picking the right varieties, we've found a way to balance the acidity of apple with the sweetness of pear. 
TASTING NOTES
Medium-sweet | Lightly Carbonated | Aromatics Ripe Pear, French oak, Green Apple 
Food pairing: BBQs, Sticky Ribs, Asian Sweet Sauces, Desserts
DIETARY INFORMATION
Vegan Friendly
4.9% ABV
UNIT
375ML Cans
A nice dry little cider. Clear and refreshing.
Simon D.
This is the best cider ever.
James P.
Local Cider. Different but refreshing, reminds me of Moscato.
Jess K.
The apple flavour really comes through with the hints of hops. A bit sweeter than the oaked, but just lovely ice cold.
Richard O.
Crisp apple up front, dry finish with a bit of tannin volume on the middle to back palate.
Travis C.
Sweet, crisp and delicious.
Nicky B.