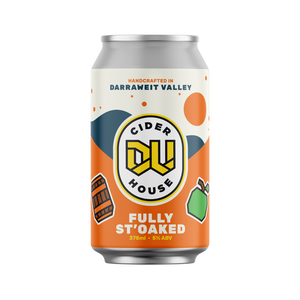 Fully St'Oaked - French Oaked Apple
SOLD OUT
Subscribe to get news on when 2023 batches are released.
A crisp cultural collusion— oak and apple fusion!
Want to know the real difference between the cider you get from the pub and real craft cider? It's a question of character but mostly the way it's made. This is one of our favourites. To make it we age our cider in French Oak. The result is a light tannin finish that offers more flavour complexity than your average tap cider. 
TASTING NOTES
Medium-Dry | Lightly Carbonated | Aromatics Light Oak, wood notes, Vanilla
Food pairing: slow-smoked American BBQs, Charcuterie board, Asian & Mediterranean spiced dishes
DIETARY INFORMATION
Vegan Friendly
5%
UNIT
375ML Cans
A nice dry little cider. Clear and refreshing.
Simon D.
This is the best cider ever.
James P.
Local Cider. Different but refreshing, reminds me of Moscato.
Jess K.
The apple flavour really comes through with the hints of hops. A bit sweeter than the oaked, but just lovely ice cold.
Richard O.
Crisp apple up front, dry finish with a bit of tannin volume on the middle to back palate.
Travis C.
Sweet, crisp and delicious.
Nicky B.